Grizzly bear tracks were reportedly seen this past weekend west of Wisdom off the Foothills road, a sign of Spring and a reminder that bears are waking up around the Big Hole Valley.
With calving season underway, bears waking up across the landscape, and wildlife returning to the Valley, we want to let landowners, ranchers, and residents know that we have various tools and resources to help reduce conflicts with wildlife.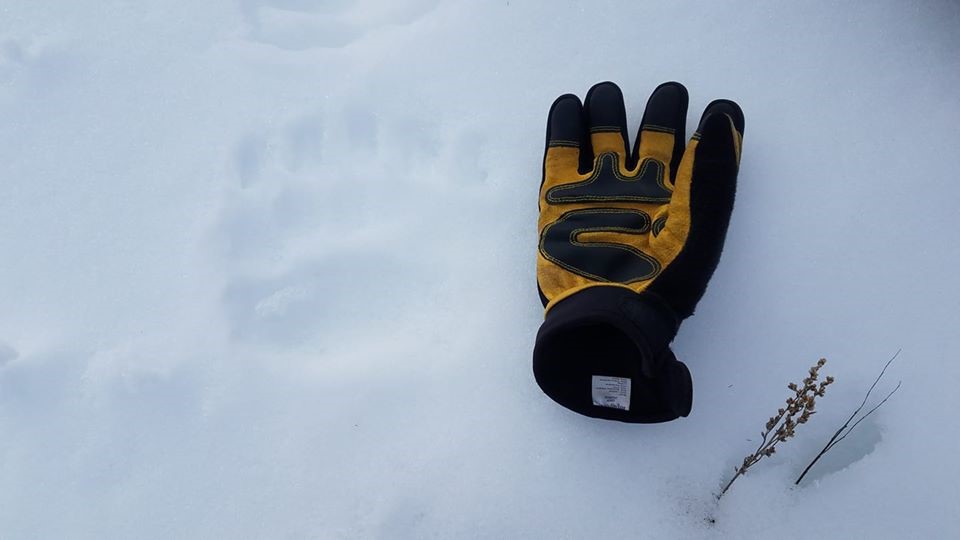 The Big Hole Watershed Committee (BHWC) is partnering with People and Carnivores (P&C) to prevent conflicts with large carnivores throughout the Big Hole Valley, keeping people and their property safe and large carnivores wild. This is a good time of year to check around your property for anything that may attract a bear or other wildlife: pull down birdfeeders, store garbage inside hard-sided buildings or in a bear-resistant manner; and the same goes for other attractive items such as livestock feed and pet food. Barbeques and other smelly items can also attract bears and should be stored properly. Vulnerable livestock can be protected using electric fences.
BHWC offers free livestock carcass removal to ranchers in the Big Hole Valley (and in the Sage Creek area on behalf of the Centennial Valley Association), removing boneyards and carcasses that may lure carnivores to your property. With grizzly bear populations expanding and recent grizzly bear reports in the Valley, removing carcasses improves the safety of both people and livestock. Ranches interested in participating in the program can contact John Costa, BHWC Wildlife Program Technician, at 209-628-2225 or contact the BHWC for more information.
We also have conflict prevention tool kits available right now for ranchers to check out for free that come with various scare devices and information about ways to prevent conflicts. Tool kits can help protect vulnerable livestock during times of high risk like calving or lambing. Additional tools like electric fencing may also be available.
Bear-resistant garbage canisters are also available to any Big Hole Valley resident in need. These specialized containers can be used to keep bears and other wildlife from accessing garbage as well as livestock feed. Canisters are available on first-come, first-served basis.

For more information on any of the tools and resources mentioned, contact us at:

Big Hole Watershed Committee People and Carnivores
Tana Nulph, Associate Director Kim Johnston, Field Project Manager
(406) 267-3421 (406) 599-9424
tnulph@bhwc.org Kjohnston@peopleandcarnivores.org
Livestock Carcass Removal
John Costa, Wildlife Program Technician
(209) 628-2225