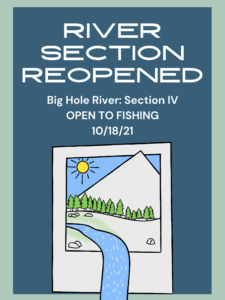 Thanks to the recent snowfall and cooler temperatures we've been experiencing in the Big Hole watershed, Montana Fish, Wildlife and Parks has lifted the fishing closure on Big Hole River Section IV effective yesterday, October 18th, 2021. Section IV is the stretch of river from MFWP Maiden Rock FAS to Tony Schoonen (previously Notch Bottom) FAS.
We expect additional river sections to reopen this week as reopening criteria are met for each section. Closure and reopening criteria for each river section are designated in the
Big Hole River Drought Management Plan
.