Montana Fish, Wildlife and Parks has announced Hoot Owl restrictions to be implemented on 3 Big Hole River sections effective tomorrow (Thursday), August 6th, 2020.   The following sections are included in the restrictions:  

Section II: North Fork BHR to Dickie Bridge
Section IV: MFWP Maiden Rock to Notch Bottom FAS
Section V: Notch Bottom FAS to BHR mouth  

This means all fishing must cease by 2pm to protect the fishery from stress & mortality exacerbated by high water temperatures. Read the full MFWP press release for additional information, including information regarding Hoot Owl restrictions on neighboring rivers.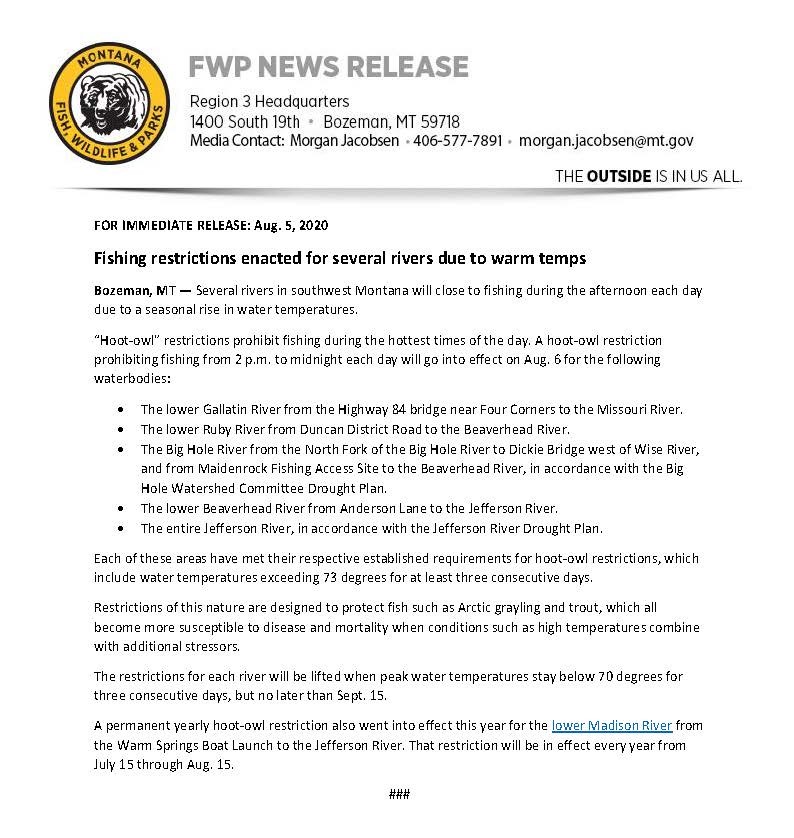 Big Hole River sections and corresponding drought triggers are identified in the Big Hole River Drought Management Plan (DMP). The plan is reviewed annually by the Big Hole River Drought Subcommittee and changes are made as needed. The DMP was created in 1997 to protect the Big Hole River fishery from intensifying drought
We also want to offer a huge thank you to the CCAA and irrigators in the Upper Big Hole, who were able to turn around low-flows in Section I and return the river to 40 cfs in a day thanks to successfull collaborative conservation. This is how it's supposed to work!!! GREAT JOB ALL.