We're looking for volunteers to help us remove temporary fencing from over 2,000 trees & shrubs planted in the California Creek floodplain (Mt. Haggin) in 2017. The fencing has done its job: the plants are established and the time has come to remove the metal from the landscape.
The best part? You can keep any of the fencing that you want, including 8′ t-posts, 8′ welded wire fencing (2″x4″ mesh), and t-post corner brackets. (Please let us know if you plan to join us so we can plan accordingly.)
BHWC, FWP, and volunteers will be meeting: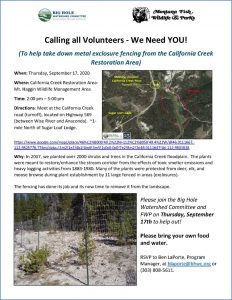 Thursday, September 17th, 2020
2:00-5:00pm
@ the California Creek turnoff
more information available here
Will you join us?
If so, please RSVP to Ben LaPorte, BHWC Program Manager:
blaporte@bhwc.org or 303-808-5611